Description
The Dwyer SAH Smart Air Hood has been designed to be more accurate and easier to operate than conventional air hoods. Its  air hood stand and wireless communications to the handheld means the Dwyer SAH Smart Air Hood can be operated by a single user, making it a more cost effective and quicker option than traditional balancing teams.
Air hoods are traditionally one of the most popular tools used by HVAC technicians to balance and test an HVAC system. Uncertainty between pitot traverse measurements and air hood measurements have been a source of frustration and confusion among HVAC technicians and contractors.
The disparity can  arise due to design limitations of current air hoods. The pitot arrays are often sensitive to airflow patterns, therefore can be affected by different diffuser styles and the converging sections fail to condition airflow patterns.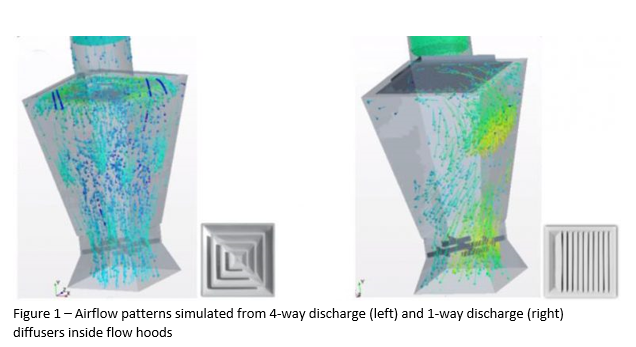 The Dwyer SAH Smart Air Hood features a unique Quad Flow Design which directs circulating air patterns giving a more even air flow. It also reduces back pressure resulting in more accurate readings.
Advantages of Dwyer SAH Smart Air Hood…
The Dwyer SAH Smart Air Hood includes a mobile meter with WiFi direct communications. This has a range of up to 183m between Smart Air Hood and mobile meter. The mobile meter includes the PredictAir application software using Predictive Balancing. Predictive Balancing is a method of predicting the optimal flow set point for each register and the order in which they should be adjusted. There is a Predictive Balancing Express Mode which reduces the number of steps required in the balancing process, saving time and money.
The rugged polypropylene base hood and accompanying extendable pole make the Dwyer SAH Smart Air Hood lighter and much more maneuverable than traditional air hoods. The air balancing process can be completed by one technician.
Dwyer SAH Smart Air Hood in action…
Dwyer SAH Smart Air Hood Features and benefits…
Quad Flow Design Technology directs the circulating air patterns to provide a more even air flow that minimizes back pressure enabling accurate readings.
Wi-Fi direct wireless communication provides a range up to 200 yards (183 m).
Ergonomic design is much lighter and easier to work with than the existing bulky air hoods, providing greater maneuverability and less physical strain.
Predictive Balancing is a process that guides the balancing technician on setting the optimal flow set point for each sequential terminal. With the PredictAir Application Software, the balancing process takes much less time than traditional air balancing methods.
Fluidic are a recognised partner of Dwyer Instruments for Scotland and the North of England.  Our instrumentation engineers are product trained and are able to help with instrument selection within the full Dwyer Instrument supply scope.   Please call either office for more information (Glasgow 0141 641 5920,  Warrington 01925 572401).